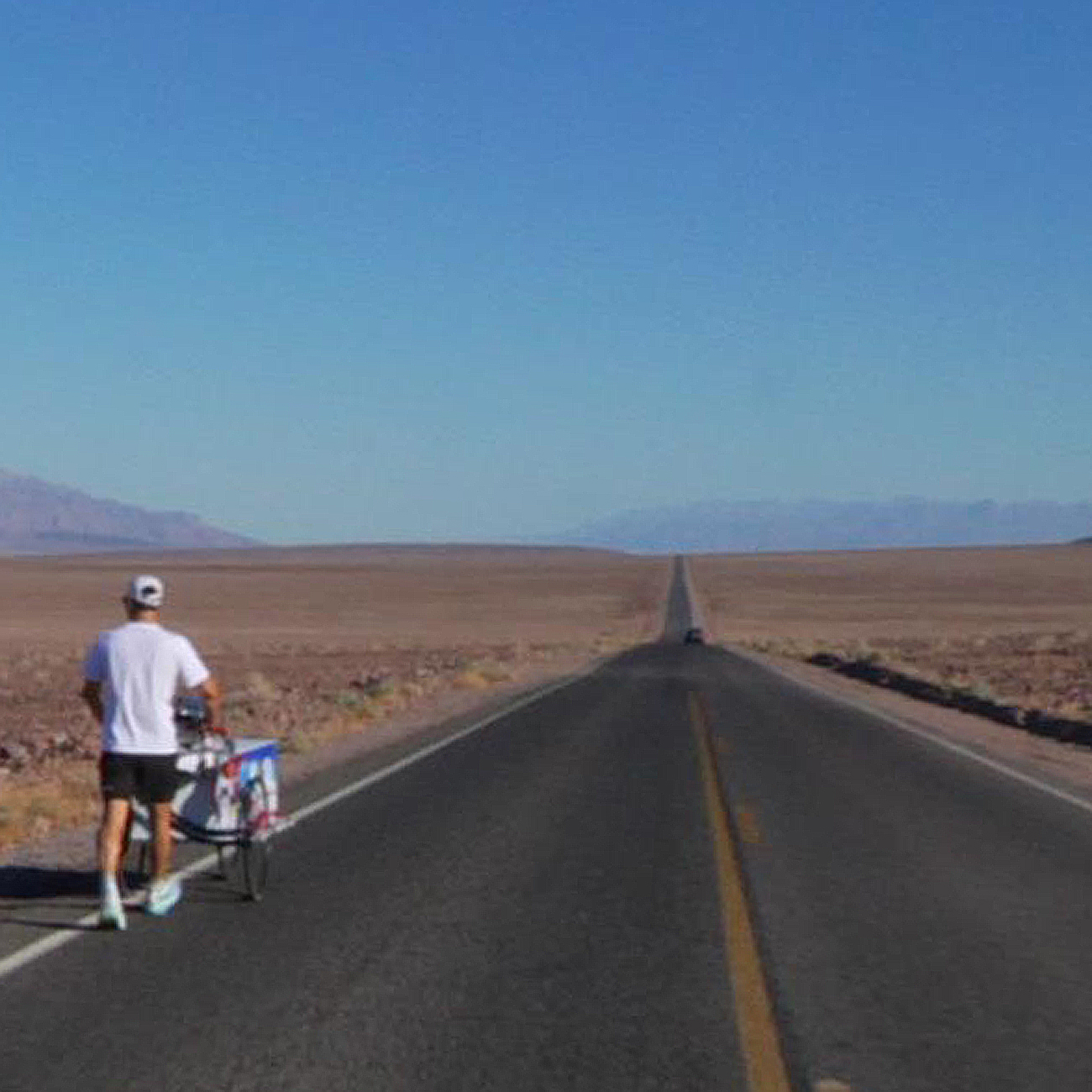 Badwater SOLO – Croix Sather
Just two years after Croix began running, and 1 year after his run across, he challenged himself to beat one of the world's hardest races. It's called the Badwater SOLO self-contained crossing ultramarathon – commonly called the Badwater-Solo. He was the third person to ever finish the completely unassisted self-contained crossing.
At age 41 Croix beat the 13-year-old record set in 1999 by running legend Marshall Ulrich by almost five hours for a new world record time of 72 hours and 55 minutes.
Croix made two attempts at Badwater Solo in less than four days. His first try started on August 19 but ended 45-miles later when his body couldn't regulate the excessive heat that peaked at 117 degrees Fahrenheit.
On August 23 Sather came back to try again. This time he succeeded and set a new world record!
Unlike the annual Badwater Ultramarathon that was dubbed "the world's toughest foot race" by National Geographic, the Badwater Solo Unassisted run does not have support crews and the runner cannot be assisted in any way for any reason making this an even tougher race.
It is a 146-mile race against the clock in the hottest and harshest environment on the planet. From 282 feet below sea level at "Badwater Basin" to the highest point in the continental United States, Mt. Whitney at 14,505 feet, Croix pushed a cart weighing 270 pounds filled with water, food and supplies. Temperatures ranged from 117 degrees on the desert floor to below freezing at the mountain peak finish line.
Croix slept a total of 3 ½ hours, where he would wake up to the alarm on his watch. He had trained his body to adjust to these minimal naps, a practice known as polyphasic sleep.

"I can sleep for seven minutes and it feels like five hours," Sather said. "In this case, I did mostly 22-minute increments and I would wake up seconds before the alarm clock went off."

"The last four miles were as tough as the whole race put together," he said. "One of the only things that kept me going was pure desire and adrenaline. What kept me together was the desire to get the record."

"It was the craziest and hardest thing I have ever done. It was way harder than my run across America," Croix says.
Runner
Croix Sather

After being hit by a drunk driver as a kid, doctors said he was not supposed to live, let alone run.

In just 2 years, Croix went from being a non-runner to a World Record Champion.
In 2011 he ran 2,621 miles across America in 100 days, combined with an
inspirational speaker tour.
In 2012 he broke the 13-year-old world record for the Badwater Solo Self-Contained Ultramarathon of ultra running legend Marshall Ulrich.

Croix travels full time, living the speaker and laptop lifestyle part-time in Costa Rica and wherever he feels like experiencing.

Check out his website for his upcoming adventures, and follow him along: https://croixsather.com/