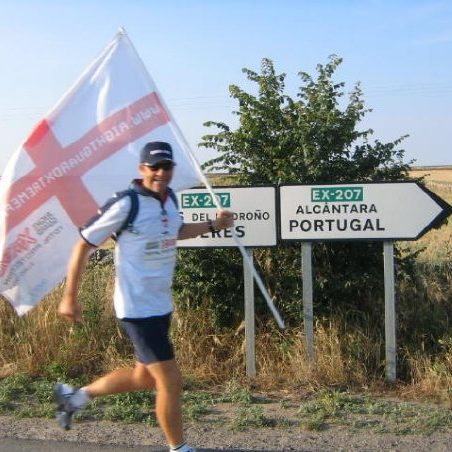 London to Lisbon – Rory Coleman
In 2004 Rory Coleman was asked to run from London to Lisbon for EURO 2004, ahead of the football's European Championship.
The 42 years old football lover ran for 6 weeks, day in day out, to arrive just in time for the kick-off of England's crucial group game against France. Rory could be tracked his whole journey through France, Spain and Portugal.
He proudly ran to raise money for the Everyman Male Cancer Awareness Campaign. His trip was sponsored by Right Guard deodorant, so all funds he raised went into vital research for male cancers.
The Everyman campaign was set up by The Institute of Cancer Research in 1997 to raise awareness of and funding for male cancers.
"Getting to Lisbon from London running 50kms a day for 43 days has taught me a lot more about looking after my feet than reading the book 'Fixing your feet'. It's meant I've finished the Marathon des Sables blister-free for years now using the techniques I learned the hard way out there on the hard shoulder and they are far simpler than the ones described and more effective than the 'Feet Fixing Bible' describe."
"I know the only reason I managed to get the 1275 miles to Lisbon with my feet 100% was by wearing Saucony Shoes, some days different types to allow for the camber of the road.
If I were to run from London to Lisbon again, in consecutive daily 50km chunks, as I did in 2004, I'd be planning that one a bit differently as well. The two Michelin Road Atlases with a route highlighted in with a pink marker pen, one for me and one for the crew, would now be planned to the ninth degree with GPS pinpoint accuracy and iPhone would now be the weapon of choice. A Spot tracker would've been most welcome in the heart of Spain for instance. In the Pre-Facebook and Twitter age, my daily updates were sent out to 100 pet email addresses minus images rather than a daily 'Live' to tens of thousands.
'London to Lisbon' is something I'll always be really proud of."
In March 2019 Rory was one of the speakers during Trail Runners Connection Live, a 5-day virtual event with 30 world class expedition runners, who shared their story of running for a better, healthier planet:
In May 2020 we virtually ran the world in 7 days and talked about coaching during Covid-19, lifestyle, dealing with fear, staying fit and planning new running goals while being in lockdown:
Runner
Rory Coleman

Rory knows the ups and downs of his transformation from being a heavy smoker and drinker to accomplishing 1,029 marathons, 250 ultramarathons, 9 Guinness World Records, 15 Marathon des Sables and 24 years alcohol-free.

He completed a 1275-miles run in Europe from London to Lisbon.
Even though he was paralyzed by the Guillain-Barré Syndrome, he was able to recover and start running again.

Find out more about Rory Coleman's adventures, records and coaching services for life, sports and business, his ultra diet and his book on his website: http://colemancoaching.co.uk