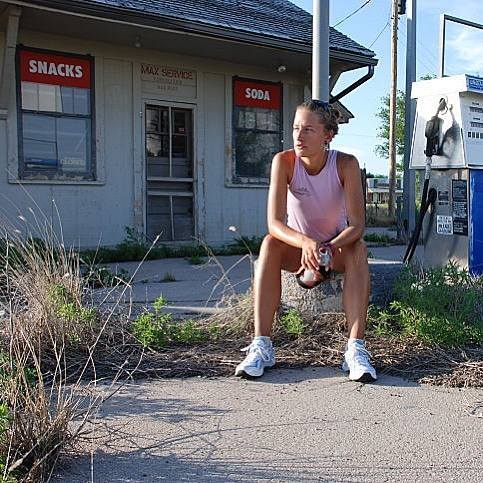 Run Across America – Ashley Schneider
Ashley Schneider loved to run and explore the world. She came up with idea to run across America and raise money for Multiple Sclerosis (MS), a disease her mother suffered from. "I thought, if I was going to do something like that, I should do it for my mom," she said. "When those two things came together, I knew that's what I was supposed to do with my life."

On March 22nd, 2010 Ashley Schneider began her 3,288-mile journey across America, on foot, from San Francisco to New York.

Ashley ran nearly a marathon a day, six days a week for six months, to fundraise for Multiple Sclerosis (MS).
MS is an unpredictable, often disabling disease of the central nervous system that disrupts the flow of information within the brain, and between the brain and body.

With only a motor home and one crew member to aid her, Ashley was able to complete her run on September 28th, 2010. She ran the final steps of her cross country run in New York, surrounded by supporters, family, and friends.

Ashley became the 16th female to ever run across America. During these six months she ran through 11 pairs of shoes, burned over 270,000 calories, and sustained an injury total of only two blisters.

Along the way she rallied thousands of supporters helping her to raise awareness and money for her personal cause.
Ashley decided to turn her experience into an annual relay event, the MS Run the US, America's first and only 3,100-mile relay run. Every year starting in mid-April we run from Santa Monica to New York.

In 2017 her mother Jill died due to complications of the disease.
Jill's positive attitude and contagious spirit for life have inspired the hundreds of others to create positive change.
Ashley hopes that people will become more understanding of what it means to live with MS. The struggle is often unseen by outsiders.
Some runners with MS are told, "you look so good." But they could be dealing with a lot, Ashley knows.

Ashley works as Executive Director to MS Run the US, developing relationships and programs to further the organization's mission. She received her degree from the University of Wisconsin-La Crosse in Exercise and Sport Science and also operates a nutrition business to inspire, encourage, and assist others to get active and stay healthy.


Runner
Ashley Schneider

After running 20-30 miles a day for 6 months to cross America coast to coast for her mother who suffered from multiple sclerosis, Ashley initiated America's first and only 3,250 mile ultra relay run to raise awareness and help find and fund a cure for MS.
You can find more info about Ashley and the relay on http://msruntheus.org