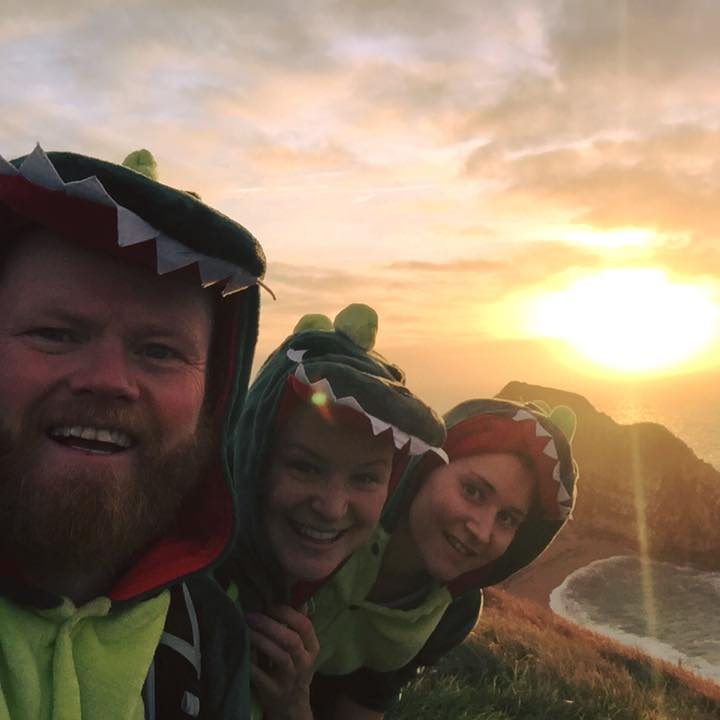 Running the Jurassic Coast – Anna McNuff
In December 2015 Anna McNuff decided to do a 96-mile jog along the Jurassic Coast through the British countryside.
She was joined by fellow Roman runner Lydia and star of BBC2 SAS Ultimate Hell Week, Danny Boy Bent, all dressed as a dinosaur.
They started at the western gate in Exmouth and ran to Old Harry Rocks at the Eastern end of the Jurassic Coast.

The hugely diverse and beautiful landscape is underpinned by incredible geology of global importance. In 2001 it became a World Heritage Site.
Rocks across 95 miles of this coastline record 185 million years of history.

"These are the days I will take to my grave. Wind. Mud. Rain. Britain is beautiful. #GetOutside & explore!" Anna wrote about the adventure.
Runner
Anna McNuff

Well howdy do – I'm Anna, a British born adventurer, motivational speaker, influencer and author. I was recently named by Condé Nast Traveller as one of the 50 most influential travelers of our time, and by the Guardian as one of the top modern female adventurers. I am also proud to be the UK Ambassador for Girl Guiding, and the co-founder of Adventure Queens; the UK's fastest growing women's adventure community.

I get my kicks by traveling the world on long, human-powered journeys, and in sharing those journeys with others. When not running up mountains or sleeping in the wild, I encourage others to grab life by the balls (non-scientific term), and speak and write about the importance of adopting a growth mindset (scientific term), in everything we do.

https://www.annamcnuff.com