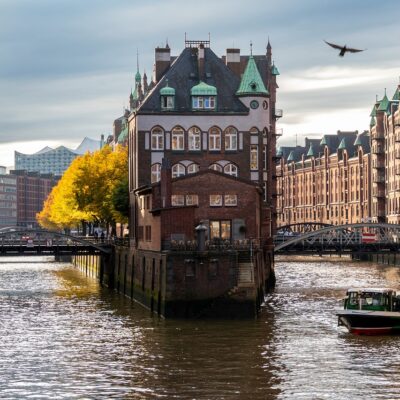 Hamburg is a major port city in northern Germany and connected to the North Sea by the Elbe River.
It's the 2nd largest town in Germany and the 3rd biggest port of Europe.
It also has the highest number of bridges (ca 2500) to cross all its rivers and canals.

The city's central Jungfernstieg boulevard connects the Neustadt (new town) with the Altstadt (old town).

Highlights are Landungsbrücken, St. Michael's Church, the Kunsthalle art museum and nighlife area Reeperbahn.
Speicherstadt (lit. 'warehouse city') is one of the largest unified historic port warehouse complexes in the world, spanning an area of 260,000 square metres of beautiful neo-gothic brick architecture. It was built into the Elbe river between 1883 and the late 1920s on thousands of oak poles as a free economic zone in Hamburg's port and partly rebuilt between 1949 tand 1967. 
Since 2015 Speicherstadt and the iconic Chilehaus are an UNESCO World Heritage Site because of the unique buildings and winding network of streets, canals and bridges, representing one or more eras of human history.
Today Speicherstadt hosts a variety of leisure activities.
Another UNESCO World Heritage Site is the Kontorhaus district, an area of over five hectares featuring six very large office complexes built from the 1920s to the 1940s to house port-related businesses. In the long canals between the former storage buildings, you can catch smaller ships making their way through the area.