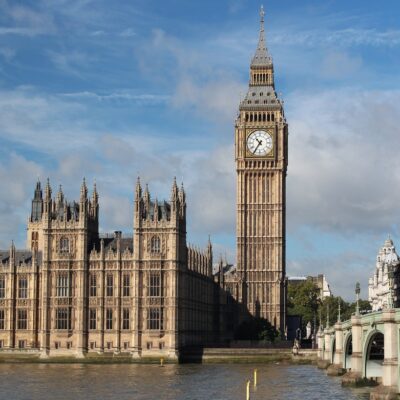 London is the capital and largest city of England and the United Kingdom.
It was founded by the Romans as Londinium on the banks of the Thames River, which flows through the city.

It is famous for the Buckingham Palace, Houses of Parliament, the iconic 'Big Ben' clock tower and Westminster Abbey, site of British monarch coronations, and the Ferris wheel London Eye, which gives a great view of the center and far beyond.
London Marathon
The distance of the very first Marathon, which was held during the Olympic Games in Athens in 1896, was 24.8 miles. It was a tribute to Greek messenger Pheidippides who had run 24.8 miles from the battlefield of Marathon to Athens in 490 B.C., to bring the news of the Greek victory over an invading army of Persians.
The 1908 Olympic Games were held in London. That year, King Edward VII and Queen Alexandria wanted the marathon race to begin at Windsor Castle outside the city so that the Royal family could view the start from their home. The distance between the castle and the Olympic Stadium in London proved to be 26 miles. Organizers added extra yards to the finish around a track, so the runners would finish in front of the king and queen's royal box. Every Olympic marathon run since the 1908 Games has been a distance of 26.2 miles (42.195 kilometers).
Up until today this is the official Marathon distance and is measured by AIMS (Association of International Marathons and Distance Races) and IAAF (International Association of Athletics Federations). More than 380 of the world's leading distance races from over 100 countries are IAAF-AIMS certified.
A follow-up of these Olympic Games in London was The Polytech Marathon, held between 1909 and 1996. By then the Poly was Europe's oldest regular marathon. It had seen more world records and had been run over 42.195 kilometres (26.219 mi) more often than any other marathon.
The London Marathon as we know it now started in 1981. It has a global reputation of a fast, record-setting course. Many (Guinness) World Records have been broken during this race. It's a IAAF Gold label certified race and entrance is only possible through a ballot or by applying for a charity place.
Former fastest female marathoner of all time and 3-time London marathon-winner (2002, 2003, 2005) Paula Radcliffe ended her career during the London Marathon 2015: "I'll be doing this marathon for me." The women's marathon world record holder has finally overcome a debilitating foot injury and will allow herself to drink in the memories – good and bad – with the elite club runners in her last meaningful tilt at the London circuit."
Having set an incredible world record in a mixed race of 2:15:25 in 2003, Paula Radcliffe clocked 2:17:42 to win the London Marathon for a third time two years later, a mark which still stands as the fastest ever run in a women's race without male pacemakers.
"We look up to what Paula has done, especially her solo world record, and that is what we are trying to go for on Sunday."
Where to watch the London Marathon
Find the best spectator spots along the route and track down nearby pubs and bars for when all that cheering and applauding leaves you gasping for refreshment. Also nice for the runners to walk some part of the course before or after the race and have some breaks. For more details, maps and tips for supporters check out this Spectators Guide of the Marathon.
Running tours
Jog through London while taking in some of the many sights and attractions that this remarkable city has to offer. City Jogging Tours offers various scheduled and customized Jogging and Running Tours, City Power Walking and City Walking Tours. Explore the riverside, Parks, Palaces and other Highlights of London during a 6-12 km route. They also offer City Yoga, City Pilates and City Fitness sessions for busy travellers and locals. A good way to warm up or cool down after the Marathon in April.
The highlights you'll pass during the London Marathon are Charleston FC, Greenwich Maritime museum, Cutty Sark, The Shard, Tower Bridge, Canary Warf, St. Pauls Cathedral, London Eye, Houses of Parliament and Buckingham Palace. If you got enough time it's good to be prepared and know to find your way before the race. But save some energy and explore the city and enjoy its highlights after the race. Be your own guide with this map.