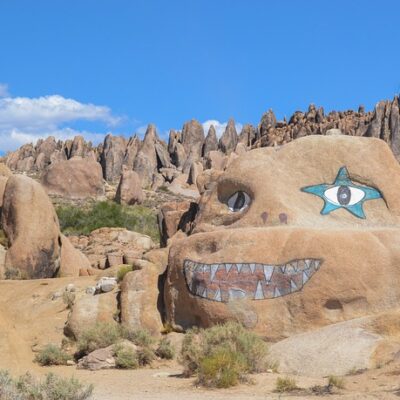 Located in the Owens Valley near the Alabama Hills and Mount Whitney, between the eastern peaks of the Sierra Nevada to the west and the Inyo Mountains to the east.
In 1913 the Los Angeles Department of Water & Power diverted the Owens River into the Los Angeles aqueduct, causing it to run dry and transforming much of the Owens Valley into a desert.
Due to a 1997 lawsuit, LA was required to restore the river in what was the largest river restoration ever undertaken in the US. Starting in 2006, a sixty-two mile stretch of river is again flowing including fish habitat.

By the end of the 19th century, Lone Pine became an important supply town for nearby mining communities including Kearsarge, Cerro Gordo, Keeler, Swansea, and Darwin that that now have turned into inhabited ghost towns. The Cerro Gordo mine high in the Inyo Mountains was one of the most productive silver mines in California.