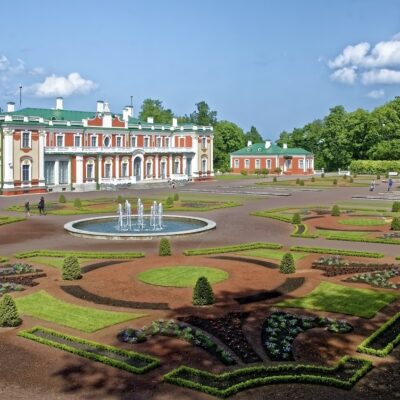 Tallinn's Old Town is divided into two areas – the lower town and the upper town, once separated by gates. The lower town (all-linn) is one of the best preserved medieval towns in Europe, also listed as a UNESCO World Heritage Site since 1997. 

There has been a Town Hall in Tallinn since at least 1322 and a town square next to it ever since. On Town Hall Square you will also find the Europe's oldest continuously-operating pharmacy (open since 1422). Today it operates as a museum and modern pharmacy. 
Tallinn, or Reval as it was known, was a thriving member of the Hanseatic trade league in the 13th-16th century. It's known for its colourful, gabled houses, half-hidden courtyards and grandiose churches within a mostly-intact city wall with guard towers.
It's small, compact, and very easily explored on foot. 

The Tallinn City Trail Half Marathon, usually held in late May, is a half marathon over the city's natural surfaces culminating with a sunset view of the bay from the limestone cliffs at Sugarhill.
The origins of Tallinn date back to the 13th century, when a castle was built there by the crusading knights of the Teutonic Order. It developed as a major centre of the Hanseatic League, and its wealth is demonstrated by the opulence of the public buildings (the churches in particular) and the domestic architecture of the merchants' houses, which have survived to a remarkable degree despite the ravages of fire and war in the intervening centuries.
https://whc.unesco.org/en/list/822/