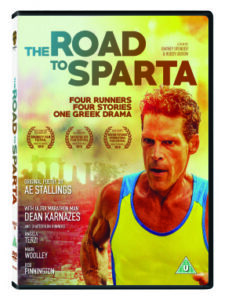 The Road to Sparta is the story of four runners who are trying to complete the 2014 Spartathlon, a 246 kilometre ultra-marathon from Athens to Sparta in Greece."Ultramarathonman" Dean Karnazes will be attempting the race for the first time, and the former Badwater winner will be doing it on the same diet as Pheidippides when he ran the same route in 490BC.
Mark Woolley is looking for his fourth finish while Rob Pinnington and first-time runner Angela Terzi will be hoping to reach Sparta for the first time.
Of the 300-odd runners who start the race only a third will complete the fruelling course. The Road to Sparta will focus on these four as they attempt to overcome their physical and mental demons. The film will feature an original score from the Greek band Old House Playground.
Producer/director Barney Spender began his working life as an actor before falling into sports commentary and journalism (someone handed him a microphone and that was it). Harking back to his theatrical roots he insists that The Road to Sparta will not be a documentary but an 'artumentary'. Hooked on the Spartathlon since moving to Greece for the 2004 Olympics. Currently based in Paris and working for Eurosport.
The award-winning The Road to Sparta is available on DVD. They are available direct from Barney and his Ragged Rock production company, priced at £10.49 plus p&p (£6.95). Payment via PayPal. Discounts on multiple orders. Contact Barney at raggedrockfilms@gmail.com – stick 'DVD order' in the subject line.